While there are many benefits to learning the Norwegian language, both present and historical, those benefits can be addressed directly at the Norwegian School Online. Learn both contemporary Norwegian, to the level of fluency, along with Old Norse grammar and language integrated into all of the tales of global Viking history and the beautiful Norse mythology that has provided a great deal of cultural influence to worldwide literature, art, music and other creativity.
                  Luckily with the Norwegian School Online there is a great advantage to being able to choose your own educational schedule and work at your own pace to gain a comfortable knowledge of this very influential language, even to the point of fluency. The interesting nature of Old Norse language can help not only in providing a lead into contemporary Norwegian, but also in understanding a great deal of Scandinavian history and culture that built today's belief systems. Although Christianity may not have been a direct source of beliefs in Old Norway there is much to be seen of the mythology that was used to build creative historical tales of creation, humanity and nature as a whole. Begin with Old Norse language and grammar to work your way through all of the connected myths and beliefs that have led to the vast world in existence today.
                  Through this website, Norwegian School Online, you have the option to join the worldwide group of nearly 6,000 individuals working to learn the Norwegian language on their own for various reasons. No matter whether the need is a vacation, term of study, business or academic project or other visit, just a basic knowledge of Norwegian can make communication during this period much easier. It has also been notified that knowledge of a language like Norwegian, on both contemporary and historical levels, adds to the analysis and understanding of a great deal of global literature that has passed through several centuries. There are other plays, such as those by Norwegian Henrik Ibsen, or famous operas based upon Norse mythology and language by musicians such as Wright.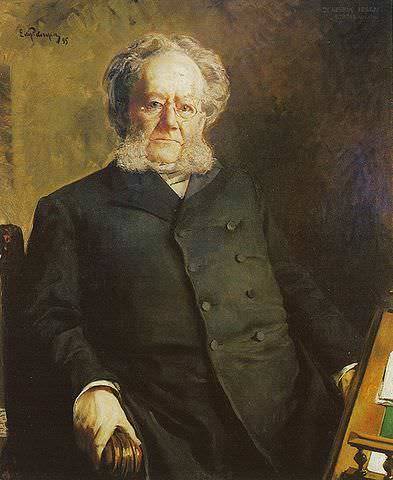 Henrik Ibsen by Eilif Pettersen Creative Commons
                  Luckily for myself and other English-speaking individuals the Norwegian language is easy to learn from an independent online arena given the similarity in the order of words along with simple natures of verbs with minimal conjugation for varied noun quantity or verb tense. Norwegian School Online provides self-study to learn various levels of the language depending on your needs, including business or medical professions as well as basic language for tourists and Old Norse grammar for academic purposes. Take advantage of your own personal language growth along with the ability to learn about Norwegian history and culture from this website and enhance your own knowledge of the beautiful nation you intend to visit or add to your own professional and personal life. Take advantage of a very affordable price from the experienced educator of Norwegian language and history who has developed the Norwegian School Online himself.
                  With the inclusion of Old Norse there is the ability to gain knowledge of this language and its overall benefits to current language and culture. The benefits of grammar, reader, historic glossary and index of names. All of this leads to the knowledge of the continuous language development along the enhanced historic value of Old Norse and Viking cultures throughout European and global history. Upon this website there is the ability to learn of the history of the Norwegian language and its development from Indo-European through Proto-Germanic and Proto Norse into the Norse language of the Vikings. Through the Viking age of global adventure the Old Norse language made its way all over the world from Europe to North America and Asia. The massive trading network of the Vikings led them to settle in the various lands they overtook, influencing language and culture worldwide including Britain and Anglo Saxon lands of northern Europe. Learning of this language and history helps to further analyze the hundreds of literary and other artistic works that evolved from the culture, beliefs and language of the Vikings' period ranging from about A.D. 750 to 1200.
                  While there are several other locations to begin the journey to various levels of fluency in the Norwegian language, anyone can begin with knowledge of Old Norse to gain a comfort level across the Scandinavian lands or dive directly into the Norwegian dialects. Knowledge of basic grammar, reading and terminology are helpful to those working throughout the region in science, medicine and other academic and professional fields. Initially learning the historic placement of Old Norse grammar across Scandinavian nations and into cultural and historical literature and other values, this step onto the first level of Norwegian fluency helps begin the reading of these works and basic Norwegian pieces builds comfort for anyone among visit or work within Norway. Moving farther into the more intimate terminology of the Old Norse language helps to relate closely to Norwegian language and its roots, with the similarities to English helping to develop further self-comfort with both travel and moving to Norway.
                  So, no matter what your condition for learning Norwegian, old or new, there is definitely the ability to take in all in here at Norwegian School Online. There are two current national written languages, with Bokmål almost completely identical to Danish and plenty more linguistic context from the entire Scandinavian area. With the commonalities across these countries, including Norway, Denmark and Sweden, there is the ease of traveling around the region without worrying whether or not it will be difficult to read signs or speak to anyone with whom you come in contact. Starting with the Old Norse provides the option to delve deeper into historic aspects of Norwegian and Scandinavian culture, as well as the intriguing perspectives of mythology, literature and other written art. There is much to be appreciated of the centuries of Norwegian history read through the linguistic changes made through eras of interesting and internationally effective history, and when learning the contemporary language there is a cultural seed planted through learning at least some bit of the wonderful history of this beautiful land.
                  Along with the thousands of others around the world that seek to learn Norwegian online for their own enhancement in their own homes, an affordable price and flexible schedule it to be greatly appreciated from Norwegian School Online. The founder of this website, Henning Gustavsen, has a great deal of experience in teaching the Norwegian language along with various other aspects of the Norwegian history and culture that are available here as well. With affordable pricing for all of these convenient online classes, there is much to be learned at your own pace in order to soak up the Norwegian language fluently in preparation for whatever need you may have. Enjoy the availability of Norwegian across the Scandinavian region for your movement to a new career or taking an exciting vacation, and learn fully from a teacher who has worked with students of all nationalities and course levels for over a decade now.
                  From what I have read throughout the website and across the internet this course is available to meet the needs of all of those looking for growth through soaking in the Norwegian language and culture intimately on their own level. The creation of this course, along with the experience of each student taking it, provides every level of information desired along with flexibility of schedule and advanced education for whatever you are looking to gain through online learning. There is much to be learned, from taking the language into account first and then feeling fully comfortable and accepted for whatever occasion you are entering Norway.
Norwegian Language – Present and Historical